Drum circles are a fun and interactive way to make your event special–or you can make the drum circle your special event! Whether you are holding a festival, running a park district program, planning a pep rally, or creating a prayer service, we can create a very special program for you!
Recreation
We LOVE working with our local park districts! Recreational drumming is a great way to get away, recreate, and co-create together in a caring and supportive creative environment.
Whether your oganization is holding a festival, or you are looking for a new monthly program to add to your offering, our goal is to give the participants a very rewarding and fun experience!
Health and Wellness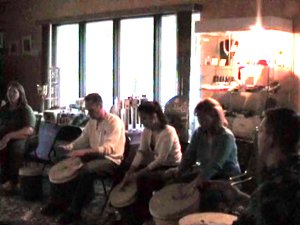 The health and wellness industry is still growing, and, as professional drummers, we know what drumming can do for the body.
We've worked with counseling centers and wellness centers with programs designed to promote relaxation, meditation, and rejuvenation. Relieve stress and get a great workout. We incorporate breathing and Tai Chi Chuan techniques to enhance the experience.
You can read more about the health benefits of community drumming at the following web site: HealthRhythms with Christine Stevens.
Prayer
We are pastoral musicians, and we have used the drum as the early Church has done–to glorify God in prayer, music, and song. If your Church is holding a prayer service, a youth ministry event, or a class, or if you have a Small Christian Community, we can incorporate drumming and song to create a very worshipful and powerful prayer experience.
"For where two or three are gathered together in my name, there am I in the midst of them." Matthew 18:20
Education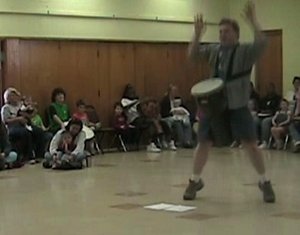 This is where we REALLY shine! We are experienced music educators, and we love to teach about the various instruments, cultures, and rhythms you will experience in a drumming circle!
More than that, however, music promotes learning beyond the music class and beyond the drum circle. We learn to listne, communicate, and support each other. Our minds and hearts open as we co-create music together, and we learn that we are part of something greater than ourselves!
Play On The Drum drumming circles are excellent for school functions such as music classes, rallies, teacher team building, empowerment workshops, and assemblies. We have worked in elementary, secondary, high school, and college environments.
Events
If your community is holding a festival or a block party, drum circles provide a very unique and entertaining experience that is sure to bring people together and leave a lasting impression on the participants!